DON'T MISS THE OPPORTUNITY TO PREPARE YOURSELF DURING HOLY WEEK BY GROWING YOUR FAITH AND UNDERSTANDING YOUR FAITH WITH THE NEW LENTEN TITLES IN THE KIOSK!
Our is kiosk full of new titles for the Lenten Season and beyond.  If you have not discovered the joy of engaging your faith by incorporating these resources into your Catholic faith journey, then you are really missing out on an exciting adventure.  We are all called to continued conversion and growth in our Catholic lives and these books, devotions and audio talks are just what you need to encounter Jesus every day.  Visit our kiosk located in the hallway of the chapel or at most Sunday Masses near the confessional.
---
BOOKS – $5 unless otherwise marked
The Gospel of Matthew, Mark, Luke and John Study Bible
Based on the Revised Standard Version – Catholic Edition,
this book leads readers through a penetrating study of the Gospel of Matthew, using the biblical text itself and the Church's own guidelines for understanding the Bible. Ample notes accompany each page, providing fresh insights and commentary by renowned Bible teachers Scott Hahn and Curtis Mitch, as well as time-tested interpretations from the Fathers of the Church. These helpful study notes make explicit what the Gospel Writers often assume. They also provide rich historical, cultural, geographical and theological information pertinent to the Gospel. The Ignatius
Study Bible also includes Topical Essays, Word Studies, and Charts. Each page also includes an easy-to-use Cross-Reference Section. Study Questions are provided for each chapter of the Gospel that can deepen your personal study of God's Holy Word. There is also an introductory essay covering questions of authorship, date, destination, structure, and themes. An Outline of Matthew's Gospel and several maps are also included.
7 Secrets of Divine Mercy – Book 
In this compelling and timely book, best-selling author Vinny Flynn draws from Scripture, the teachings of the Church, and the Diary of St. Faustina to reveal the heart of Divine Mercy. He offers an invitation and a roadmap so that Divine Mercy, the overflow of love from the Holy Trinity, can transform your life.
Praise for 7 Secrets of Divine Mercy
"This book will profit everyone who reads it." – Donald Cardinal Wuerl, Archbishop of Washington
"Imagine if someone were to deeply ponder and powerfully proclaim the mystery of Divine Mercy for more than 35 years and then gather the most precious insights into one place. You've imagined this book." – Fr. Michael Gaitley, MIC, Author, 33 Days to Morning Glory
"What an amazing book! This isn't just a book for people who want to know more about Divine Mercy—this is a book for people who want their entire relationship with God revitalized." – Jennifer Fulwiler, Something Other than God, Radio host on SiriusXM
"I was astounded by '7 Secrets of Divine Mercy.' Vinny Flynn's book is a brilliant light to help us know St. Faustina and her beautiful message of God's mercy." – Mother Dolores Hart, OSB, Author, The Ear of the Heart
"Vinny Flynn has accomplished a great work for the Church in his new book '7 Secrets of Divine Mercy'—an outstanding presentation." – Timothy T. O'Donnell, STD, KGCHS, President, Christendom College
Catholicism – My Sisters the Saints – Jesus and the Jewish Roots of the Eucharist
The Church, the Saints, and the Eucharist Explore the timeless truths of Catholicism with these titles.  You can share the wisdom of Bishop Robert Barron, Colleen Carroll Campbell, and Dr. Brant Pitre!  Immerse yourself in the wisdom of Christ's Church, the story of Christ's saints, and the beauty of Christ's ultimate gift, the Eucharist.
---
Booklets – $3
Stations of the Cross: The Way of Divine Mercy
These classic reflections on Christ's passion by St Alphonsus retain their timeless
relevance – especially for the Year of Mercy. They are enriched by a brief biography of Alphonsus, a selection of prayers penned by him, and a word on the history and value of the Way of the Cross as a "way of divine mercy." This new edition contains new color illustrations to assist prayerful devotion.
Why Go to Confession? – Booklet
A simple, practical guide to the practice and the benefits of Confession.  The purpose of
this booklet is to help those who make use of the sacrament to appreciate it more and to encourage those who do not, to reconsider its many benefits. Describing the sacrament as "one of the greatest treasures of the Catholic Church," this booklet considers both the human and spiritual perspectives of Confession. It includes notes on examination of conscience and a helpful Rite to Confession itself.
Ways of Forgiveness – Booklet
This inspiring and practical guide opens us up to the spiritual gift of forgiveness. The
author considers what sin is and how it affects our lives, and then shows how the Sacrament of Reconciliation (Confession) can heal us from the effects of sin. What is more, in seeking God's Forgiveness, granted to all who ask for it, we can, in turn, obtain the grace to forgive others and heal our relationships with them. The author of the booklets, Fr John Edwards SJ, is an experienced spiritual director with many years of experience in this field.
Lent with the Saints – Booklet
Meditations and The forty days of Lent provide Christians, and those preparing for
baptism, with an intense period of preparation for the 'Feast of all Feasts', Easter, the 'Passover of the Lord'. This collection of sayings and meditations dwells on the central Lenten themes of prayer, conversion, repentance, fasting, almsgiving, and self-denial, as lived from apostolic times until the present day. This little companion to private reflection will offer ready sustenance to those setting out on the joyful road to Easter.
The Early Church – Booklet
Ancient Christianity is a proven draw at the box office and the bookstores. Our neighbors
are curious about the early Church, and more than willing to be obsessed by it. But how should we proceed to study ancient Christianity when the media accounts themselves have been shockingly misinformed? The key to understanding the early Church is a fresh familiarity with the ancient sources. In this booklet, you'll encounter many of the most important figures of the first centuries of Christianity. You will read their words. You will hear their side of the story.
A New Hospital Prayer Book – Booklet
This popular prayer book, now revised and improved, offers well-loved prayers,
meditations, and encouragement for those in hospital. Prayers for expectant mothers, excerpts from Scripture, and form the saints, the Rites for Receiving Communion when sick, and Anointing the Sick are included, as is night prayer and a helpful guide to confession.
Creation and Science – Booklet
Who created the Universe? Is a creator even necessary? Can science explain how the
Universe came into being without reference to a creator God? This booklet explores these ideas and the arguments that have been brought into sharp focus by Stephen Hawking's claim that his cosmological model 'left nothing for a creator to do'. Dr. Carroll examines the Church's teaching on creation from Augustine and Aquinas to the present and explains why, without a creator God, science itself would not exist.
How to Discover Your Vocation – Booklet
This booklet will help you to think and pray about your vocation and become clearer
about where God is leading you. It answers many of the practical questions you may be asking: What are the different Christian vocations? How does God guide us and speak to us? How can I be more open to my vocation, and come to a decision? It explains the Christian vocations of marriage, priesthood, consecrated life, the permanent diaconate and the single life and how you can know whether God might be calling you to one of them.
---
CD Audio Talks $4
7 Secrets of Divine Mercy
Saint John Paul II, Pope Benedict XVI, and Pope Francis have made it clear that Divine Mercy is at the very center of the Christian faith. In this talk, best-selling author Vinny Flynn shares his 7 Secrets of Divine Mercy, and Christ's message of love for each of us, and for the whole world.

The Four Last Things: Death, Judgment, Heaven, Hell
Fr. Mike Schmitz is one of the leading Catholic speakers in the Church today. Fr. Mike tackles four very difficult topics in this exceptional presentation: Death, Judgement, Heaven, and Hell. Listen to this talk and finally get the answers to the question: "What Happens When I Die?"
Following the main presentation is a bonus from the talk Purgatory: Holy Fire by Dr. Scott Hahn. This bonus is part of the 6-CD set by Dr. Hahn titled Answering Common Objections.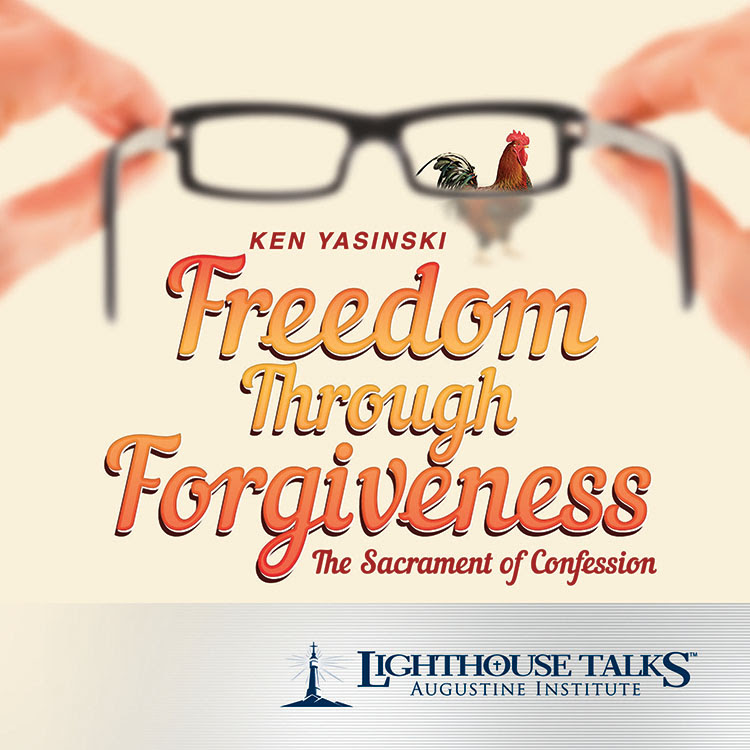 Freedom Through Forgiveness
With over 15 years of experience, Ken Yasinski has quickly become one of Canada's most sought-after Catholic speakers. Through clever examples and insightful stories, Ken reveals how each of us can obtain freedom from the burden of our sins through the forgiveness that is readily available in the Sacrament of Confession.
My Beloved Son: Meditations for Lent
Bishop Robert Barron offers five sermons on the spiritual discipline we must cultivate in the Lenten season, a discipline-centered in Christ. These meditations cover topics such as finding our identity in God, prayer as the key to the mission, our thirst for God, how to end our alienation from God, and how to joyfully embrace the way of happiness.
Seven Last Sayings of Christ
Spoken as He suffered the agony of the cross, the seven last sayings of Christ recorded in the gospels have been the subject of prayer and inquiry by Christians for two thousand years. In this revealing presentation, Dr. Scott Hahn unlocks for us the deeper significance of Our Lord's last words, carefully chosen so that we might better understand the immense love of God for every person and His plan of salvation. Learn how Jesus' words are as profound and gripping today as when He uttered them on that first Good Friday.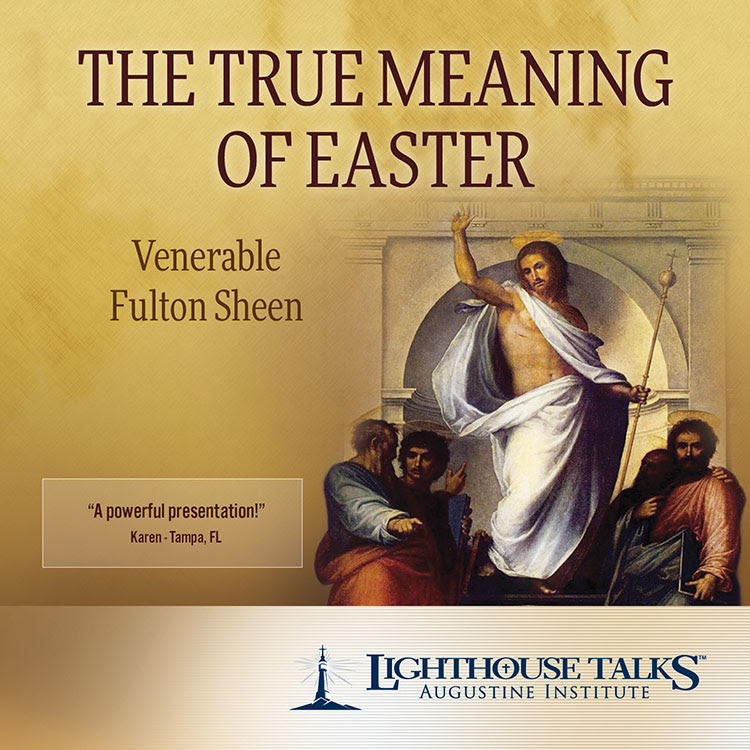 The True Meaning of Easter
Archbishop Fulton J. Sheen was one of the best-known and best-loved Catholic orators of the twentieth century, reaching millions of Christians of all denominations. Presented here are his timeless reflections on the Passion, Death, and Resurrection of our Lord, combined with Scripture and Gregorian Chant to create a powerful presentation that is sure to become a family favorite.
Prayer: Gateway to the Spiritual Life
Archbishop Paul Coakley attended the University of Kansas where he completed his undergraduate studies in English and Classical Antiquities. After being ordained a priest in 1983, he served as a priest of the Wichita Diocese for 21 years. He was installed as bishop of Salina, Kansas by Saint John Paul II in 2004 and was appointed by Pope Benedict XVI as the fourth archbishop of the Archdiocese of Oklahoma City, where he has served since 2011. His episcopal motto is Duc in Altum, which translated from Latin, means "Put out into the Deep."
The Resurrection of Jesus: Fact or Fiction?
Come to grips with "what really happened to Jesus" as Dr. Steven Smith explores Resurrection narratives from the vantage point of each of the four Gospels as well as many of the vital medical details of Roman crucifixion.
Dr. Steven Smith is a professor of Sacred Scripture at Mount Saint Mary's Seminary, in Emmitsburg, Maryland. Dr. Smith earned his Ph.D. from Loyola University in Chicago, where he specialized in the study of the Gospels and their relationship to the Old Testament.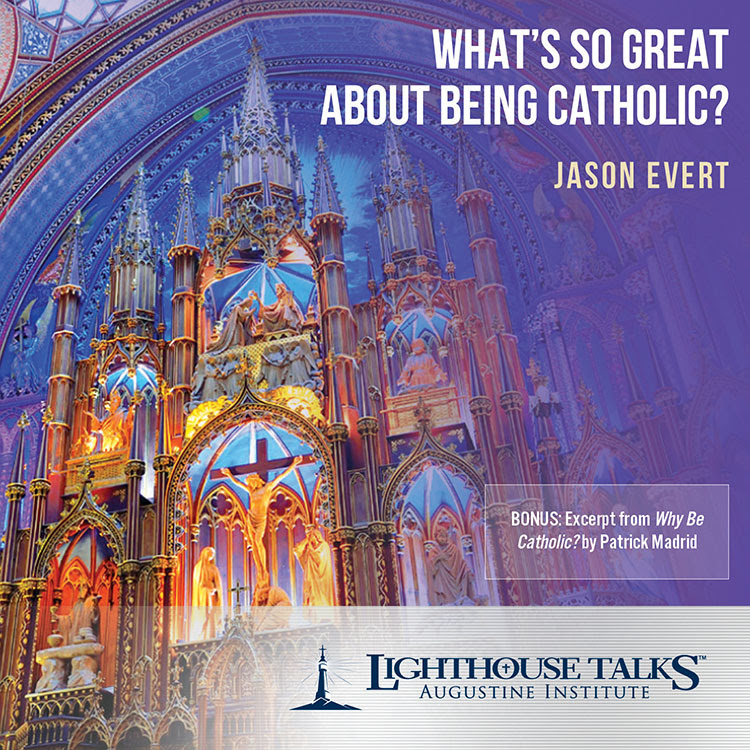 What's So Great About Being Catholic?
There's ultimately only one reason to be Catholic: because it's true. In this outstanding presentation, Jason Evert shows us the beauty and the treasures of the Faith, as revealed through the Saints and Sacraments.
Jason has spoken about the Catholic Faith to more than one million people around the world and is the author of more than a dozen books, including Saint John Paul the Great, Pure Faith and If You Really Loved Me.
The Healing Power of Confession
Dr. Scott Hahn presents the historical and biblical origins of the Sacrament of Penance (Reconciliation). He provides an important guide for new Catholics, a source of renewal for "old hands", and a challenge to all of us to deepen our relationship with Christ through regular use of the Sacrament of Penance.
Three Days That Changed the World
Fr. Perez brings us alongside Jesus in the final hours of His public ministry as He brings to fulfillment the very purpose His Incarnation, the salvation of all mankind. Fr. Perez's detailed insights of those last three days offer a moving look into the loving heart of the Messiah and detailed descriptions of his intense emotional and physical sufferings as they really were. With this knowledge, our hearts can only love him more.
Contagious Catholicism: The 7 Habits of Modern-Day Apostles
Internationally acclaimed speaker and author Chris Stefanick speaks about the importance of living a life of authenticity with a courageous commitment to love. He walks us through seven habits that we can use as modern-day apostles to effectively spread the good news to Jesus Christ. Following these lessons will help us to fulfill our calling to be fearlessly and joyfully Catholic, with a faith that is attractive, life-giving, and truly contagious.

Counting Your Blessings
Dr. Scott Hahn explains the essential teachings from God's Word regarding the theology and practice of Catholic family life based on the image of the Blessed Trinity, demonstrating that God's Word is all that is needed to create a loving family life.
No Turning Back
How is a diehard agnostic transformed into a fervent apostle of Christ? Fr. Donald Calloway, a former drug dealer, will have you on the edge of your seat as he candidly shares the amazing story of how he was unexpectedly led into the Catholic Faith and to the priesthood by God's grace and the intercession of the Blessed Virgin Mary. His conversion can be compared to that of St. Augustine. Formerly titled: Former Drug Dealer to Catholic Priesthood
Life-Changing Stories of the Eucharist
In this talk, Jesse Romero shares numerous encounters of the stunning power of Christ's presence in the Eucharist in his own life and in the lives of others, and a convincing presentation of history and theology as witnesses to this most incredible mystery and gift! Jesse is a renowned professional Catholic apologist with a Masters in Theology, a retired L.A. Deputy Sheriff, and a former Police Olympic boxing champion and USA kickboxing champion. He speaks on the radio and at conferences around the country with a refreshing, straightforward, pulls no punches, high-energy style, and with a passion for the Catholic Faith and our Eucharistic Lord.